Dr. Hema Jajoo MBBS, DGO, is a senior consultant Obstetrician and Gynaecologist practicing for more than 30 years. She has obtained her medical graduation and post-graduation from MGM Medical College, Indore, Madhya Pradesh. After post-graduation she worked as a consultant of Obstetrics and Gynaecology at Ramakrishna Mission Hospital, Narainpur, Bastar (Chattisgarh), for 6 years from 1992 to 1998. There she got immense experience in high-risk and critical obstetric care and provided training to resident doctors, nurses, and paramedical staff. Since 1998, Dr. Hema Jajoo has been practicing privately as a senior consultant in various clinics and hospitals of Indore- Medicare Hospital, Shakuntala Devi Hospital, Motherhood Hospital, Indore Infertility Center, Coral Hospital etc. She is working as a consultant Obstetrician and Gynaecologist in Medicare Hospital, Indore, since 2011.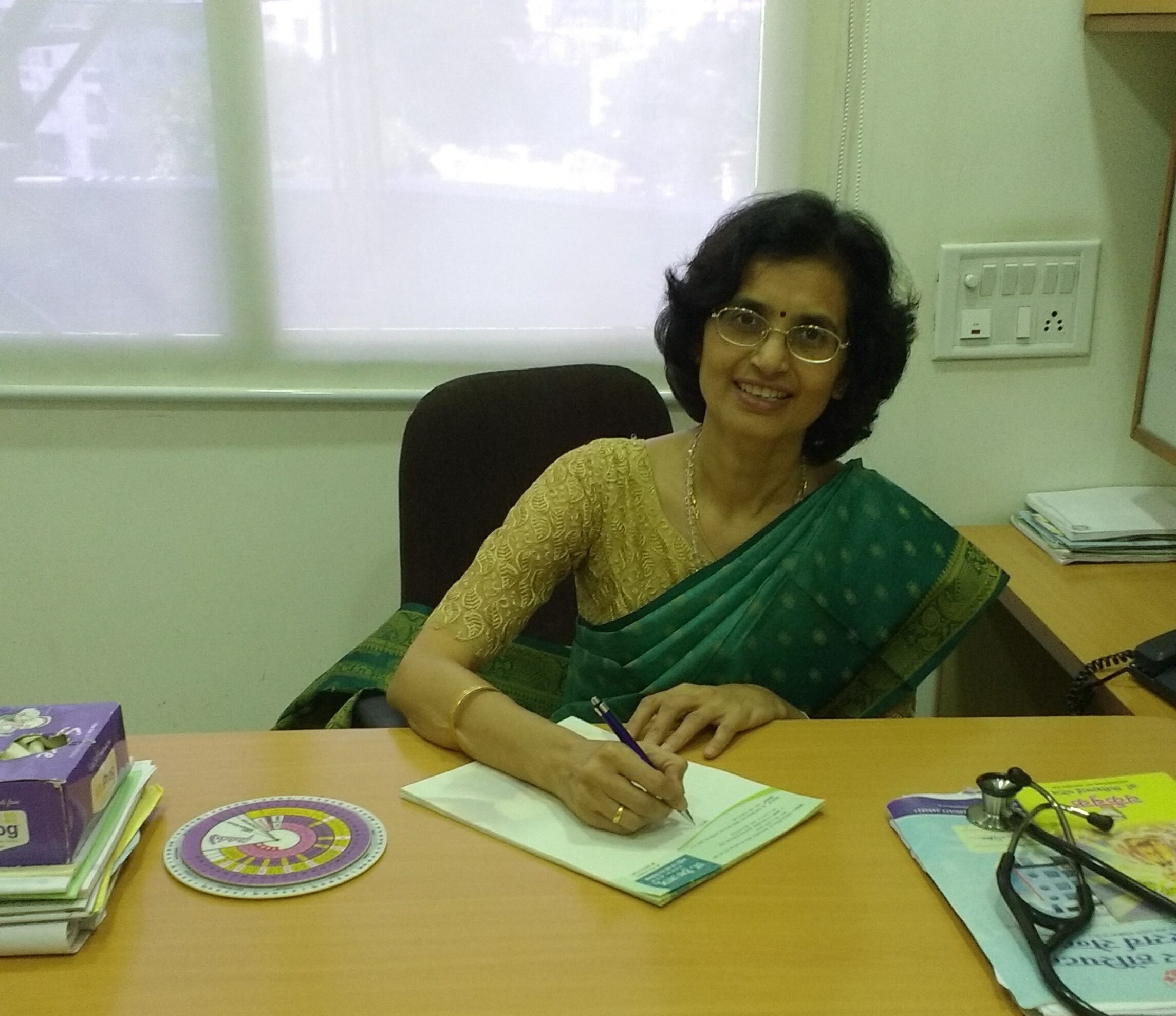 She has also completed multiple practical training in advanced Laparoscopy and Hysteroscopy, Ultrasound imaging, Infertility, and Critical Obstetric Care. Dr. Hema has also been awarded membership of the Federation of Obstetric and Gynaecological Society of India (FOGSI). She has rich experience in and is very sought after for high-risk obstetric care, chronic gynecological problems, adolescent and menopausal problems. She tries to treat patients conversatively, and does surgical operations only when needed. She believes in social work and actively participates in medical camps for the poor and the needy. She believes in her responsibility to deliver the best health care possible to her patients. Recently, she has passed in flying colors Credentialed IMS Menopause Practitioner EXAM 2021 (CIMP) and now practicing as a Certified menopause consultant Indore.
AREAS OF EXPERTISE
Management of High-Risk Pregnancies (pregnancies complicated by present or past diseases like diabetes, hypertension, thyroid disorders etc that may compromise the safety of mother and child)
Normal delivery and painless labor
Postnatal care (care of women after delivery)
Infertility evaluation and management
Family planning advice
Diagnostic and operative hysteroscopy and laparoscopy for various diseases and conditions like infertility, endometriosis, ovarian cyst and tumors, fibroids, ectopic pregnancies and congenital anomalies of the uterus
Hysterectomy (removal of the uterus) by Laparoscopic route, Vaginal route, and Abdominal route
Ultrasonography
Adolescent problems
Menopausal problems
Menstrual problems
Breast problems and breast cancer screening
Screening for cervical and other gynecological cancers and their management
Sexual problems related to females
Useful Faq's
Pre Preganacy
Can diet affect my chances of getting pregnant?
– Adequate hormonal function is essential for successful ovulation. Unfortunately, a poor diet can play havoc with our hormones, which in turn, can lead to ovulatory issues. This means that eating certain foods and avoiding others can actually improve our fertility.
Will taking a hot shower affect my husband's fertility?
– Fact: Actually, there is truth to this myth. Exposure to high temperatures, like in hot tubs, hot baths or saunas can cause the temperature of the testes to become too hot. This can kill sperm and lower sperm count. However, this effect is only temporary, and counts will go back to normal once the hot tub is avoided.
What amount of Folic acid consumption is right?
– All pregnant women should take get at least 400 to 500 micrograms (mcg) of folic acid daily
What other prenatal vitamins should I take?

400 micrograms (mcg) of folic acid.
400 IU of vitamin D.
200 to 300 milligrams (mg) of calcium.
70 mg of vitamin C.
3 mg of thiamine.
2 mg of riboflavin.
20 mg of niacin.
6 mcg of vitamin B12. Most of multivitamin tablets contains above mentioned vitamins.
Pregnancy
How should I stay fit during pregnancy?

Regular walk and exercise
Nutritious high protein diet with fruits and green leafy vegetables
Small frequent meals
Proper sleep

What is the right posture for sleeping in pregnancy?
-Sleeping on your left side is often referred to as the "ideal" scenario during pregnancy. Positioning yourself on the left side of your body allows for optimal blood flow.
Should I avoid caffeine consumption in my pregnancy?
– Studies show that getting more than 150–200 milligrams (about 1–2 cups of coffee) of caffeine a day during pregnancy may not be healthy. High amounts of caffeine during pregnancy has been linked to problems with a baby's growth and development.
How far can I exercise in my pregnancy?
-You can carry on exercising as long as you feel well and comfortable. If you feel okay, you can stay active right up to the birth of your baby. Keep doing low-impact activities, such as walking and swimming. You can do gentle stretches to reduce aches and pains.
Is hair coloring safe during pregnancy?
-Most research, although limited, shows it's safe to colour your hair while pregnant. Some studies have found that very high doses of the chemicals in hair dyes may cause harm. It is better to avoid.
How much weight should I gain pregnancy?
-A woman who was average weight before getting pregnant should gain 8 to 11 kg after becoming pregnant. Underweight women should gain 12 to 15 kg And overweight women may need to gain only 7 to 8 kg during pregnancy
Post Pregnancy
How soon I can start exercise again after my baby birth?
– If you had an uncomplicated pregnancy and vaginal delivery, it's generally safe to begin exercising a few days after giving birth or as soon as you feel ready. If you had a C-section, extensive vaginal repair or a complicated birth, talk to your health care provider about when to start an exercise program.
How should I avoid my pica cravings?
– In most cases, pica in pregnant women goes away on its own. Improving your nutritional intake or taking a prenatal vitamin can help.29-Nov-2020
Here are some suggestion to overcome pica cravings:
Inform your health care provider.
Monitor your iron status along with other vitamin, calcium and mineral intake.
Consider potential substitutes for the cravings such as chewable calcium tablets.

How should I deal with depression and anxiety?
– Anxiety is very common after delivery. Some times trauma of vaginal birth and handling newborn can lead to anxiety an sometimes depression. normally this can be managed with family support. But moderate to severe cases are usually treated with therapy and medication, most often the class of antidepressants and anti-anxiety drugs known as SSRIs. SSRIs are generally considered safe to use during pregnancy and while breastfeeding.
Does breast feeding cause after pregnancy hair loss?
– Postpartum hair loss is a normal – and temporary – postpartum change that is unrelated to breastfeeding. Most women will return to their usual hair growth cycle between 6 and 12 months after birth. Many new moms notice hair loss – sometimes quite dramatic – around three months.
How often should I visit doctor post delivery?
– At least three additional postnatal contacts are recommended for all mothers and newborns, on day 3 (48–72 hours), between days 7–14 after birth, and six weeks after birth.
Baby Care
How to hold the baby while latching?
– Cradle hold is the classic position most commonly adopted by breastfeeding women. It involves you sitting upright, with your baby positioned on his side, his head and neck laying along your forearm and his body against your stomach, in a tummy-to-mummy position. A pillow or cushion behind you and a breastfeeding pillow across your lap propping up your baby or your arms may give you more support, and avoid strain on your back or shoulders. If you use a breastfeeding pillow, make sure it doesn't lift your baby too high – your breasts should remain at their natural resting height to avoid sore nipples and a strained latch.
How should I latch on my baby correctly?
– Most important thing is the correct position of the baby while latching as described in answer of first question.
Tickle your baby's lips with your nipple. This will help babies open their mouth wide.
Give nipple along with the dark coloured areola in the mouth of the baby for proper feeding.
Make sure your baby's chin isn't tucked into their chest.
How many layers of clothing should I make my newborn wear before going out?
– If you're comfortable in two layers, your baby needs three."   A good way to check to see if he's too hot or cold is to put a hand on his tummy or back, which should be warm but not sweaty
Are sleep sacks safe for my newborn?
-Sleep sacks are safe as long as you choose a design that prevents slipping and rolling when your baby is asleep. It is really important that they are fitted properly, without excess fabric that they can slide into.
Should I provide my newborn a bath every day?
– There's no need to give your newborn a bath every day. Three times a week might be enough until your baby becomes more mobile. Bathing your baby too much can dry out his or her skin. If you're quick and thorough with diaper changes and burp cloths, you're already cleaning the parts that need attention — the face, neck and diaper area.
My baby's skin appears a bit yellowish, is that OK?
– You take a pink baby home and in a day or two you notice that your baby's skin has a yellow tint, you may be a little alarmed. You also may worry that your baby is jaundiced. Normally this yellow tinge is very light and disappears in 7 to 8 days you probably have nothing to worry about. If your baby appears very yellow be sure to talk to your doctor about your concerns.